Smartphones are, nowadays, ubiquitous. They're everywhere. Everyone has one, and using them is practically second nature these days. That means the touch gestures we have to utilize are as natural to us as breathing.
However, without a high-sensitivity screen protector, these gestures can become unusable and inapplicable. Which steals the magic of using smartphones. Because it is magical. Like a sequence of wand motions in Harry Potter, you practically cast spells with these gestures.
We're here to detail the top 5 touch gestures for your smartphone that are indispensable but rendered unusable without a high-response screen protector. So let's get into it, shall we?
The top 5 touch gestures for Androids, iPhones, and more
1. The tap
When using an iPhone and considering the seemingly endless list of touch screen gestures at your disposal, none is easier or more commonly required than the tap.
While it may sound like a finishing move in professional wrestling, the tap simply involves tapping buttons on the iPhone's display. It's one of the most commonly used touch screen gestures, meaning, oftentimes, the buttons are big, inviting, and waiting for you to make your move.
However, it can be difficult to execute the tap without the use of your fingers. This issue is often a direct consequence of skimping and using an ineffectual screen protector. Failing to use a high-response, high-quality protector renders most mobile touch gestures inaccurate.
Moreover, when you're working, this kind of disruption can derail all your momentum. Also, inaccurate tap functionality can have other consequences. Let's say you're waiting to respond to a message and you don't want your contacts to know you are online.
Or imagine that you don't want the chat to display a read receipt because, well, you're not trying to hurt anyone's feelings. Without the accuracy provided by a high response screen protector, the imprecision renders these mistakes far too easy to make.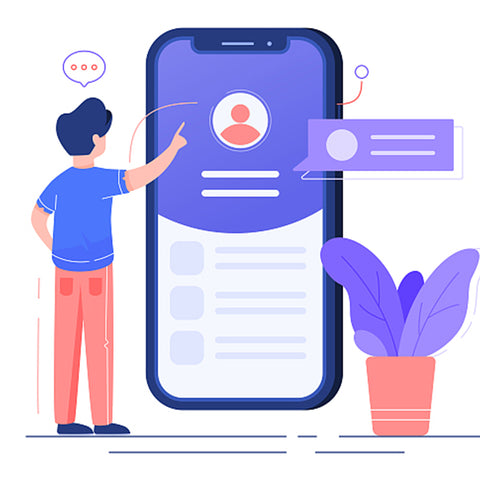 2. The drag
Another one of the most commonly used mobile touch gestures is the drag. Part of what makes the drag so commonly used is that it can be applied to innumerable scenarios.
The drag is used for browsing Web pages, emails, photos, or just scrolling around. The drag is what it sounds like (and no, we don't mean a dance), which is like most touch gestures, meaning that you simply slide your fingers across the display in any direction.
This kind of ease of use and navigation is practically what has made smartphones popular. Remember scroll bars? Those weren't fun for anyone. Still, it's important to recognize the effect an ineffectual screen protector can have on your user experience.
Without the right screen protector, you'll experience lags when you try to scroll. And, worse yet, you might even end up scrolling too far. This can be detrimental to your workflow, and it can be a major inconvenience you shouldn't have to put up with.
After all, this kind of technology and these kinds of magic touch gestures for Windows 10, Androids, and iPhones are basically the future we were promised, and you shouldn't have to settle for anything less.
Luckily, you don't have to if you just get the right screen protector. Ultimately, security shouldn't come at the expense of functionality. It's important to remember that.
3. The slide
While the days of the UX slide and swipe indicator may be somewhat behind us, it's still important to remember that we still use this touch screen gesture a lot.
Simply put, this feature hasn't just gone extinct. It's evolved. In most cases on smartphones, you used to confirm actions by sliding your finger across the screen. While the UX slide and swipe indicator may have been superseded by the (supremely creepier) fingerprint indicator and facial recognition (which is another function that is completely impeded by an ineffectual screen protector), the slide is still very much alive. We use it in multitudes of situations.
Whether you're deleting messages or emails or you're trying to swipe up, down, or whatever to use the shortcuts on your phone, this feature is practically the bedrock of convenience. Without it, you have to revert to manually accessing features. Which is basically a slow, painful death.
More importantly, it kind of defeats the purpose of this technology. Being unable to swipe or slide can make things unpleasant, to say the least. And, we're sure, that is the opposite experience you want to have.
Basically, without a high-response screen protector, you're willfully operating with a handicap. And in a world that moves as fast as the one we inhabit, that's basically asking to be left behind.
4. The flick
The flick is, in many ways, the drags' older, cooler brother. It's a function that comes with plenty of reckless abandon for those who like to live life on the edge.
All joking aside, when considering the long list of touch screen gestures at your disposal, the flick is indispensable. Basically, by flicking your finger vertically across the screen, the display will literally soar by. Even better, touch screens are sensitive to intensity.
The faster you flick, the faster you'll scroll. However, the flick can get a little complicated. If you haven't scrolled far enough, you can flick again for good measure. However, if you've arrived at the section you were looking for, you can tap the screen to stop the ride.
This is essential for doing things like browsing phone contacts, but it's also great for skimming articles or documents to get essential information. Otherwise, you'll be dragging manually the entire time, and this repeated motion can have severe consequences on your thumb's joints.
A high-response screen protector is crucial to enable this function because this function works in conjunction with other gestures. With an ineffectual protector, you're simply making life harder for yourself than it needs to be.
5. The pinch and spread
We would be remiss if we didn't mention the pinch and spread, which is significantly more appropriate than it sounds.
When you're looking at photos, checking emails, using Google Maps, and browsing websites, this function is critical. So, basically, among touch screen gestures for Windows 10, Android, or iPhone, this one is critical on a daily basis.
This feature enables you to zoom in on the screen. By simply placing two fingers (typically the forefinger and thumb) together on the screen and then spreading them, it allows you to take a closer look at anything being displayed.
The image then magically grows, and when you take your fingers off the screen, it's restored to its normal size. However, the amount you zoom in is dictated by how far you spread your fingers apart. This is why having a high-response screen protector is crucial.
Imagine you're reading a document, but the text is too small. Particularly with contracts and other important forms, this is bound to happen. With the pinch and spread, you can easily read what's on the screen quickly and without any worry that you are misreading the text.
This can be a severe situation if you need to respond immediately. Without high response sensitivity, it can make it either impossible to zoom in, or it can make it impossible to control the degree to which you zoom in. Either way, this is a gesture you can't afford to not be using.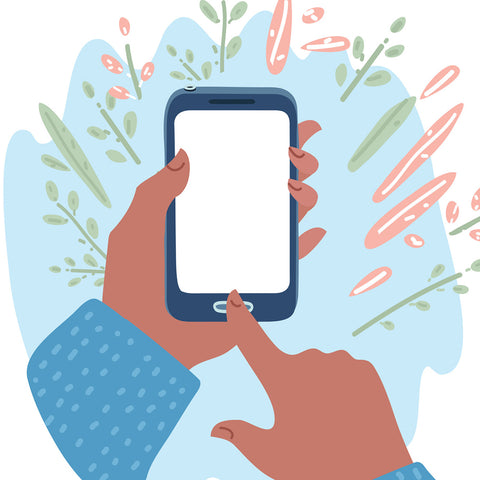 Now you know how your screen protector impacts touch screen functionality…
...so what are you waiting for? You should settle for nothing but the best screen protector no matter what device or brand you're using. And, simply put, OMOTON's screen protectors are in a league of their own. So browse them now to optimize your phone using experience!
So, until next time! Just do us one favor: try to use your newfound magic powers for good. Though we recognize that it is far less enjoyable.