There are about as many phone stands as there are phones on the market. This makes it difficult to know what stand is right for you. However, the answer is clear. No matter what device you have or what you need a stand for, the OMOTON C4 phone holder is the choice for you.
Other phone stands are, well, imposters. They pretend to be what the OMOTON C4 phone stand is. But it's hard to truly know what sets a phone stand apart from the rest. Luckily, we're here to help. We want your phone to have the home it deserves.
Everything must belong somewhere, and for your device, that place is the OMOTON C4. So, without further ado, here's what sets the OMOTON C4 cell phone stand apart from the rest.
5 reasons you need the OMOTON C4 phone stand
1. It boasts universal compatibility
As one of the leading cell phone holders for your desk, the OMOTON C4 boasts universal compatibility. Essentially, it's compatible with all 4 to 12.9-inch smartphones and tablets.
This means that no matter who needs to use it or what device they have, the OMOTON C4 mobile phone stand for your desk and more can accommodate them and their devices effortlessly. Ultimately, this is the way the world should work. This is the future.
Our tools should adapt to us, and not the other way around. This eliminates the need for multiple stands for different devices, which is a major hassle, particularly in a household where multiple members use different devices.
This enables you to remove clutter and organize your space like never before. Unlike dating and unlike making friends, with the OMOTON C4 adjustable phone stand for your desk, compatibility is never an issue because it doesn't just meet you halfway.
It goes the whole distance.
Whether you have an iPhone or Samsung or even an iPad, you can count on this accessory to support your device and keep it safe. With this phone stand, it seems that convenience and security have finally converged.
And, make no doubt about it, your device and this stand will get on like gangbusters.
2. It's an ergonomic, adjustable angle cell phone stand
A major advantage of the OMOTON C4 ergonomic, adjustable phone stand is that it will revolutionize your productivity.
With an adjustable phone stand for your desk, you can adjust it so that it achieves the perfect viewing angle to reduce neck strain. Whether you're using it for video chats, games, or video viewing, it even frees up your hands to provide unprecedented ease of multi-tasking.
With this phone holder, your days of compromising are over.
This streamlines productivity and enables you to work longer, and your optimal viewing angle has never been easier to not just achieve but to hold. Because, with this cell phone stand for your desk, long gone are the days of strain on your neck and strain on your wrist.
It's capable of being adjusted up to 270 degrees. This means that no matter who's using it, they can achieve the perfect angle effortlessly.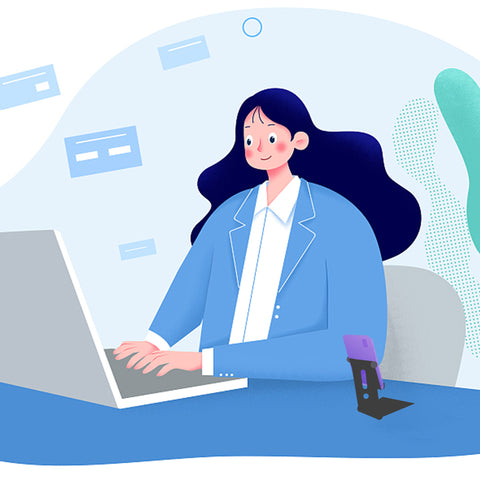 3. It's a sturdy cell phone stand for your desk and more
Made of premium aluminum alloy, this adjustable cell phone stand for your desk (#4) is as sturdy as it is sleek. And, trust us, that's saying a lot.
Your device deserves the utmost protection, this phone stand won't break and is guaranteed to maintain unmatched stability. However, just because it's sturdy doesn't mean it has to be heavy. The amazing thing about aluminum alloy is that it's the best of both worlds:
It's lightweight and shatter-resistant.
Ultimately, this means you won't have to replace it, and it's a dependable dock for your cherished device. No matter where you bring it or how you use it, this is a cell phone holder for your desk that will be with you through thick and thin.
Even more importantly, thanks to the premium aluminum alloy it's made of, your device will be protected in more ways than just one. This material helps cool down your device, too, which is perfect if overheating is a concern.
Ultimately, your phone stand should be like a house for your phone. It should be able to endure all kinds of conditions and keep it safe from harm. With the OMOTON C4, that's precisely what you get. And, better yet, you don't even have to concede a lightweight feel.
4. It's a portable, foldable phone stand holder
Just like your device, your cell phone holder should be able to go with you anywhere you go. Because there's always work to be done, and success is predicated on capitalizing on opportunities no matter where they present themselves.
That's why the OMOTON C4 foldable phone stand is unrivaled. Easy to fold and collapse down to a compact size, you can stow this holder away in any backpack, handbag, or suitcase. Whether it's for travel, work, or when you're out and about, you won't notice you have it until you need it.
Because, thanks to its lightweight design, its weight is virtually unnoticeable. Other phone stands will force you to sacrifice. They'll take up unnecessary space and your desk space will become cluttered. The OMOTON C4 does things differently.
Just like the cell phone this stand will support, we believe that things should get smaller and easier to manage, but we also believe they should still pack a punch.
5. It has anti-scratch and anti-slip features
Lastly, a major benefit of the OMOTON C4 adjustable phone stand is that it has anti-scratch and anti-slip features. This is crucial because, ultimately, you want to know that your device is in good hands. You want to know that it's safe when the stand is supporting it.
Thanks to the flexible, silicone protector that's molded around the dock, you don't have to worry about scratches that ruin the aesthetic of your sleek device. More importantly, it keeps your device from sliding, which is crucial because you never know when something might be capable of jarring it loose.
Plus, the silicone protector along the base of the phone works as a kind of redundancy measure. Not only does the dock keep the phone from sliding, but the base keeps the dock from sliding. This means you have nothing to worry about when your device is being held by this adjustable cell phone stand.
We assure you that it's in good hands. We understand how precious your device is to you because we feel the same way about ours. That's precisely why we've gone to great lengths to treat your device with the same care we treat our own.
With the OMOTON C4, you don't just get a phone stand. You get a guardian angel. And, in the end, you truly can't put a price on that. 
Now that you know what sets the OMOTON C4 stand apart…
...get one already! Do yourself and your phone a favor. Anything but the OMOTON C4 cell phone stand is a literal disservice to your device. In the end, you need a phone stand you can count on. The OMOTON C4 phone holder is a rare, reliable accessory in a world full of flakes.
It doesn't matter what you need it for, and it doesn't matter what device you have. The OMOTON C4 is sure to accommodate you and your needs, and there's no accessory you should entrust with what is, in many ways, a surrogate for your life.