Watching films is ceremonious. It's like meditation. You have to clear your mind and get in the zone to truly immerse yourself. More importantly, watching movies is no longer confined to your home. With iPads, you can watch them anywhere.
However, watching movies is rarely as easy as it should be, particularly on your iPad. This is for several reasons. Firstly, using iPads can be uncomfortable—it can be strenuous, and it's difficult to sustain the concentration needed to stay keyed into a movie.
That's precisely why a tablet holder like the OMOTON iPad Stand is so essential for your viewing pleasure and convenience. Essentially, it turns every surface and space into a theater. Compatible with virtually all tablets, this stand is unmatched.
Made of solid metal and with anti-slip pads on the base and dock, your device will be protected from harm. Moreover, with adjustable, ergonomic viewing angles, comfort's never been so accessible.
However, it takes more than the premier iPad stand to optimize your movie viewing experience. It also requires the right apps. Between exorbitant fees and aggravating streaming and buffering, this is essential.
So, without further ado, here is OMOTON's expert guide to the best apps for you to stream movies on your iPad. Let's get into it, shall we?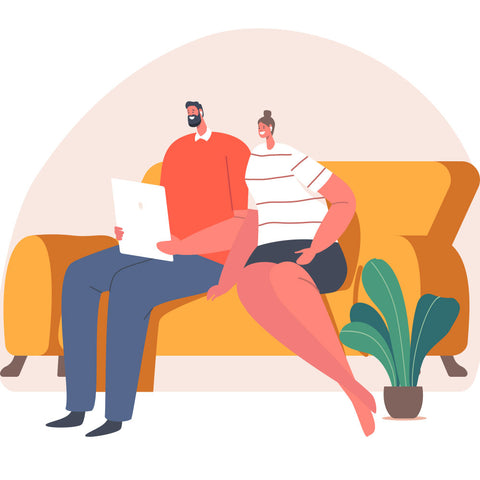 How to watch TV and movies on your iPad for free
1. SnagFilms
When considering what the best free movie apps for iOS were in 2021, SnagFilms is an easy choice. And, like every true champion, SnagFilms has retained that reputation and carried it into 2022 with ease.
SnagFilms is one of the best apps to install on your tablet for watching movies offline or online. Essentially, SnagFilms offers free, full-length TV shows and movies for your device in HD quality. Even better, it's not limited to one kind of device.
All iOS devices are compatible with SnagFilms, and it has over a dozen categories of television and film. Whether you're in the mood for something side-splittingly hilarious or bone-chillingly terrifying, SnagFilms is sure to have precisely what you're looking for.
Even better, you get to experience the film through the director's eye. For cinephiles, SnagFilms was one of the best free movie apps for iOS devices in 2021, and it has yet to be usurped in 2022. It boasts over 5000 movies, documentaries, feature films, and series for you to browse.
Moreover, for those curious about how to watch TV shows or films on their iPad for free online in different languages, SnagFilms is an answered prayer. You can choose between multiple languages, and it even boasts films by international filmmakers.
Whether you want African movies, Spanish movies, Asian movies, Korean movies, Russian movies, Arabic movies, or whatever, they're all consolidated into this one app. In other words, with SnagFilms, the whole world is at your fingertips.
Entertainment has never been as convenient as it is with apps like SnagFilms, where you can watch them anywhere, at your convenience, and in the palm of your hand. All you have to do is choose the movie you want to watch or add films to your watch list for later.
Even if you switch devices, the app will save your place, and it will playback where you left off. SnagFilms is in a league of its own. And, truth be told, it's the only league worth playing in.
 2. Showbox
For the true film buffs who love to stay current and experience all the latest and most innovative films, it can be hard to keep up.
Even worse, it can be hard to just afford access to the latest and greatest work. Luckily, for those looking for a way to watch new movies on their iPad for free online, Showbox is your salvation. Showbox is an unrivaled service to watch the latest movies for free.
As one of the premier movie streaming services, this app enables users to watch the newest films on virtually any device. Whether you're seeking out apps for a computer, smartphone, or tablet for watching the latest movies offline, Showbox is your premier solution.
More impressively, it doesn't matter what kind of device you have. Showbox can be downloaded and accessed on iOS devices, Android devices, Kodi devices, and even gaming consoles. You can create watch lists from a plethora of genres, and Showbox even boasts HD features.
If you ask us, the choice is clear if you want to stay current. And it's not even close. Anything but Showbox is like trying to keep up with a Tesla on a unicycle.
3. Popcornflix
Everyone loves free stuff. That's why Popcornflix is an exalted app for iOS. If you're unsure how to watch movies on your iPad without WiFi, Popcornflix is the perfect solution.
Movies are always a gamble. Like with any work of art, your expectations are often a self-imposed disappointment. Your expectations are your onus, and too often we start films with eager anticipation only to end up feeling disappointed and cheated.
Movies aren't cheap. It doesn't matter if you're watching them in the theater or at home. The amazing thing about Popcornflix is you have access to unlimited movies free of charge. There are no subscription fees or free-trial periods.
There's no better solution to watch movies on your iPad free online. Even better, Popcornflix can be integrated into your social media presence by enabling you to share the latest films that resonated with you on Facebook or Twitter.
With unlimited genres, Popcornflix is a literal buffet of entertainment. Plus, you don't even have to log in or create an account. You can simply arrange a watch list to enjoy at your pace. Moreover, this app isn't limited to iOS systems.
Popcornflix is free and compatible with Android, Amazon Kindle, Roku, and Samsung TV. For those who are more detail-oriented, all full-length feature films include HD quality options. Plus, to broaden your cinematic horizons, Popcornflix even boasts documentaries and foreign films.
Popcornflix isn't just an app or streaming service. It's a whole universe of entertainment, and it's just waiting for you to join in. We guarantee you won't regret it when you do.
4. Tubi TV
Netflix has monopolized streaming, but that doesn't make it the best option. It's like McDonald's: Everyone eats there, everyone enjoys it, it's everywhere, but it's not the premier food choice.
However, everything you wish Netflix offered can be found on one of the leading apps to watch TV shows and movies on your iPad for free online: Tubi TV. In simple terms, if Netflix is McDonald's quality meat, Tubi TV is upper-echelon steak.
Particularly great for iOS, you can uncover myriad hidden gems and innumerable international hits with unique genres and searching options. Even better, Tubi TV democratizes entertainment by offering thousands of hours of movie streaming for free.
You just have to create an account, and then you can oversee and arrange your selection of movies and save them for later. You can even sync your account with online devices, like Apple TV or Roku.
Tubi TV is for those with refined cinematic palates. With a bevy of options from major and independent studios, you will find films that are highly rated on Rotten Tomatoes, which is practically the barometer for cinematic quality, and you can even watch them in HD.
In short, when other services are happy being a buffet of entertainment, Tubi TV is determined to offer five-star quality content.
5. Crackle
When trying to figure out how to watch movies on your iPad without WiFi, or any iOS device for that matter, Crackle is an excellent choice.
It doesn't matter if you're using your iPhone, Apple TV, PC, or iPad, Crackle renders them all cinematic sanctuaries for you to retreat to. The days of waiting for releases and scouring the internet for streaming websites are over.
Moreover, Crackle caters to everyone's tastes, which is how the modern world is supposed to work. Whether you like comedy, action, romance, family, Sci-Fi, or documentaries, you're sure to find an abundance of options tailored to your tastes.
Plus, for those nostalgic for the movie rental experience, Crackle offers the next best thing. Going to local rental stores was different. You got personal recommendations, and that human component has been lost over the years.
Crackle's spotlight channel called What's On Now suggests top pick movies of the day, curated by Sony Pictures in Hollywood. There's no subscription required, no hassle, and no payment. With the latest, most exciting releases available, you'll never be out of the loop again.
Unless that's, like, your thing. In which place, kudos. We can't help but respect it.
6. Viewster
Lastly, Viewster is a little more niche, but since that niche has been growing exponentially over the years, it's worth including.
Viewster is one of Europe's leading movie streaming apps, and it enables you to choose a feed of anime shows beamed directly from the motherland: Japan. If you're an anime fan, this app might as well be a gift from God for you and your iOS device.
From movies to TV shows, you'll have access to the most widely renowned and innovative animated entertainment. Even better, Viewster offers HD features, and you don't even have to compromise and accept long buffering times or lapses in quality.
Free and fast, this app even boasts some newer Hollywood releases, and it has a wide array of movies for you to explore, like horror, thriller, or documentaries never before seen on the web. Plus, in-app features enable you to create a watch list.
Ultimately, Viewster is a breath of fresh air. It's a welcome alternative to watching films and shows rarely seen on conventional streaming services.
(And, yes, we're talking about you, Netflix, Amazon Prime, and Hulu.)
Now that you know how to watch movies on your iPad free online…
Download one already! It doesn't matter if you're into classics, foreign films, artsy films, blockbuster hits, or even anime. There's something out there for you. Even better, since they're all free, you can download as many apps as you want. Never limit yourself.
With these apps, the cinematic world is yours for the taking. And, while you're at it, remember to get an OMOTON iPad Stand to truly revolutionize your viewing experience. Every surface and room will become your personal theater.
Which, at OMOTON, is what we're all about. Because we believe technology should make the world your playground.