It goes without saying that laptops are an expensive, yet invaluable investment when it comes to what they can offer in terms of productivity. The problem with buying a new laptop is that they come naked -aside from the charger, you're lucky if you'll even get a case or bag for it. In order to unlock the true potential of your laptop, especially your MacBook, you're going to need some laptop accessories. So, we've compiled this laptop accessories list of the 8 must-have laptop accessories to help you figure out what you'll need to maximize your productivity and laptop user experience.
8 Must-Have Laptop Accessories in 2022
1. Laptop Bag
Besides laptop chargers, laptop bags are the most essential laptop accessory. They provide a safe means to travel with your laptop, keep your laptop accessories and other tools organized, and also double as a fashion accessory. 
Which laptop bag should you buy?
Laptop bags come in three styles: laptop backpacks, briefcases, and portfolio organizers. In order to decide which type of laptop bag you should buy, you'll need to know what sort of laptop bag features are necessary for your lifestyle. If you are a student, perhaps a laptop backpack is the way to go; if you commute by foot or bike, maybe consider getting a waterproof laptop bag, and so on. Here are our top three laptop bag recommendations for each type of laptop.
Yamtion Laptop Backpack for Men and Women
If you prefer to use a backpack for school, work, or travel, this laptop backpack offers everything you could want. Yamtion's Laptop Backpack can safely accommodate several electronic devices, including up to a 17" MacBook/Laptop and their accessories, with its roomy and shockproof compartments. Furthermore, it is designed with super handy USB and Headphone ports, as well as all the backpack essentials, such as a water bottle sleeve, comfortable straps, and a luggage strap.
What sets this laptop briefcase apart from the competition is its clever and convenient compartment layout as well as its durable and waterproof construction.  It can accommodate a 15.6" laptop with plenty of room for your laptop accessories, and everything is easily accessed due to its magnetic buckle. Furthermore, this laptop briefcase comes with a separate case where you can store your other accessories, such as your earbuds, power bank, USB cables, and so on. It can be difficult to find a laptop bag that doesn't sacrifice functionality for style, but with this bag's simple yet sharp design, you need to look no further to get the full package.
Best Laptop Portfolio Organizer
iCarryAlls Laptop Portfolio Case for 15.6" MacBook
There's something about a nice, handheld, neatly organized, leather portfolio case that exudes efficiency and professionalism. iCarryAlls Laptop portfolio case is designed not only with this impression in mind, but also practicality. The exterior is sleek, with black leather and a brown accent pocket for keeping documents. On the inner left panel is a spacious sleeve for storing your laptop, and on the inner right is an effectively laid-out organizer pocket system. Keep all your work essentials tucked under your arm and you're ready to take on what the day brings.
2. Laptop Stand
If you are a regular laptop user, whether using it for gaming or work, you're going to need a laptop stand in order to make your workspace more ergonomic and prevent neck and shoulder pain. A laptop stand will ensure that your screen is constantly at eye level so that you do not strain the muscles in your neck that are connected to your cervical spine. You can read more about laptop usage and neck pain right here.  
Other advantages of laptop stands include a more organized and modern-looking workspace, portability, and some laptop stands that can even charge your laptop or double as a protective case.
Here at OMOTON, we strive to promote productivity all while maintaining a healthy lifestyle, which is why we created this highly adjustable laptop stand for desk.
OMOTON Adjustable Laptop Stand for desk is perfect for keeping your laptop at eye level, no matter your height or that of your desk - this stand can be easily adjusted to reduce neck and shoulder pain. In addition, you'll notice it is very lightweight, and that's thanks to the premium aluminum alloy from which it's constructed as well as its hollow design. This design not only facilitates portability, but also encourages heat dissipation. The metallic finish combined with its built-in cooling function also makes it an ideal MacBook stand for you Apple fans out there.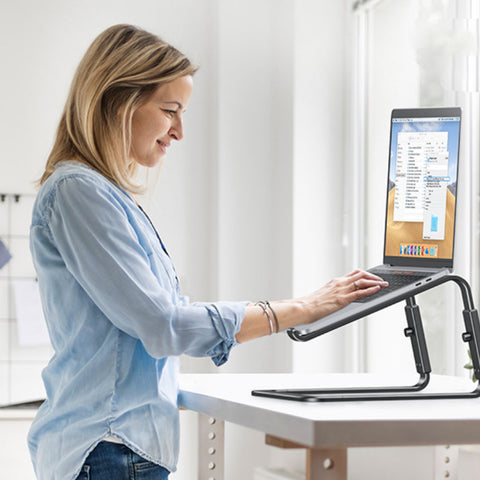 3. Laptop Desk
Next up on our list of must-have laptop accessories is laptop desks. Laptop desks serve the exact same function as regular desks but are designed with minimalism, portability, and comfort in mind. Laptop desks come in a few different shapes and sizes, so here's a breakdown of what those are and what they have to offer.
A standing laptop desk is exactly what it sounds like - it's a desk that allows you to operate your laptop while standing. Recently, a lot of research has gone into the health consequences of sitting for extended periods of time and how periodically standing while you work is much better for your posture, lower back, and hips. A laptop desk like this is also ideal for people who work in fast-paced or cramped environments where they may need to leave their workstations frequently or don't have enough space for an office chair.
Also referred to as a laptop table, lap desks offer the best level of comfort for laptop desks.  They allow you to work or play on your laptop from your bed, sofa, floor, or wherever you're most comfortable. They often come with a little storage space and room for a snack or a drink as well. Their biggest advantage is that they serve as a solid laptop base if you're in bed as they will keep the blankets and sheets away from your laptop's vents, which can lead to overheating and can ultimately shorten your laptop's lifespan considerably.
Stationary laptop desks are simply more compact versions of your typical desk. They often have a bit of storage space, room for your mouse, and maybe a notebook, and often have wheels so you don't have to remain as stationary as the name implies. These kinds of desks are great for people who live in studio apartments or just want to save space and be as minimalist as possible.
4. Laptop Screen Cover
Laptop screens are the most damage-vulnerable part of the device, which is why laptop screen covers are must have for new laptop - they will keep your shiny new screen safe from scratches, finger oils, and cracking. Laptop screen covers also come with other benefits, such as privacy protection, anti-glare, and can help block out blue light, which can have a positive impact on your sleep.
So, what should you look for in a laptop screen protector? First and foremost, make sure that it is compatible with your laptop screen. A MacBook Pro screen protector won't work with a MacBook Air screen, etc. You should also pay attention to the material from which the screen protector is made. Most laptop screen covers are made of plastic, but you'll want to make sure that the manufacturer mentions that the cover consists of multiple layers. This will greatly increase the scratch resistance of the screen and will also help with blocking the blue light.
Lastly, consider the other features, such as privacy filters, anti-glare, and so on. Privacy filter for MacBook is quite popular these days as they will make your screen appear completely black when viewed from an angle, so you can rest easy while working on private affairs.         
5. Keyboard Cover
One of the most common reasons for laptop damage is water damage to the motherboard caused by drinks spilled on the laptop keyboard. You'll be very hard-pressed to find a warranty or insurance package that covers this travesty of an accident. Luckily, keyboard covers are designed to protect your investment against mishaps such as these and offer a bunch of other benefits too.
Keyboard covers for laptops generally keep your keys dust, crumb, and finger oil free, and also provide a more satisfying typing texture. Keyboard covers also come in many different colors and designs so you can inject some personality into your laptop. Last, but not least, they're cheap! Considering how much they can do to protect and style your laptop and how affordable they are, it's kind of a no-brainer that keyboard covers make our laptop accessories list.  
6. Laptop Keyboard
and Mouse
If your laptop is your primary work device, the built-in tracking pad and keyboard simply aren't enough to maintain productivity. A wireless keyboard and mouse for laptop are crucial gadgets for laptops and will boost your efficiency and level of comfort whether you're working or playing for extended periods of time. This will be the case regardless of if you go with a wireless or wired mouse and keyboard, but we recommend going wireless because they will be much easier to travel with, you won't have to deal with any cable management, and you'll have more options in terms of how and where you work. You might also want to get a little mouse pad to travel with as well.  
OMOTON has designed the perfect travel companions in this wireless mouse and keyboard combo. Their minimalist and space gray/white coloring make them perfect for MacBook or iPad users on the go.
7. USB Hubs and Docking Stations
It's always a productivity killer when you've got to search and ask for a USB cable or adapter, especially considering that the current iteration of MacBooks only comes with a few USB-C ports.  To ensure that you don't waste time in your busy schedule, opt for a USB hub or docking station as well as one of each of the most frequently used cables.
A good quality USB port hub should have several USB ports, including USB-A port, USB-C port, as well as an Ethernet port. 
In terms of cables, it's always a good idea to have an HDMI cable handy cause you need to connect to an external screen, as well as a both USB-A cable and USB-C cable.
8. Cleaning Supplies
Techguided relates that laptops should last 4-5 years but can have even longer lifespans if proper care is taken. Not only that, but your laptop will look and feel better if you take the time to clean it once a month or so. You'll only need a basic laptop cleaning tool kit which should come with a screen cleaning kit. If you've never cleaned a laptop before, watch this guide to learn how.
The above 8  laptop accessories are what we consider to be the absolute must-haves if you use a laptop with any sort of regularity. These laptop accessories were chosen because they will protect your investment and also provide you with a more ergonomic, productive, and health-promoting experience. So don't skimp on these essential accessories - your laptop will thank you for it!