What are the different types of phone stands? Discover the variety of phone stands, including adjustable, desktop, and car mounts. Learn about their features and benefits to choose the perfect stand for your device.
What Are the Different Types of Phone Stands, and Which Is the Best Phone Stands for You?
Wherever you look today, mobile phones have become an integral part of our daily lives. From communicating with friends to business meetings and online games to video streaming, mobile phones are used for everything and by everyone.
However, holding your mobile phone for extended periods can become uncomfortable and sometimes even dangerous. And this is where phone stands come in handy.
A phone stand is a simple yet ingenious accessory that holds your phone upright. It offers an easy way to enjoy watching videos, scroll through social media, and, most importantly, keep the phone clean and safe.
In this article, we will explain the different types of phone stands to help you decide which one is best for you.
What Are the Different Types of Phone Stands?
Several phone stands are available in the market, each designed for different purposes.
Here are some of the most common types:
Adjustable phone stand — Offer multiple viewing angles while securely supporting a phone. To accommodate larger phone sizes and orientations, they typically come with adjustable arms or holders that can be moved to different positions. It can also be used as a tablet stand.
Desk phone stand — Designed to keep your phone within easy reach while you work at your desk. Desk phone stand comes in various sizes and styles, with some featuring additional compartments for storing pens, papers, or other office supplies.
Car phone holders — These are designed to securely hold a mobile phone within a vehicle. They typically attach to the dashboard, air vent, or windshield and come in various designs, including magnetic, clamp, or cradle styles, and are adjustable to accommodate different phone sizes and orientations.
Tripod phone stand — Designed for photography enthusiasts who want to capture steady shots or videos with their phones. They typically have three legs and an adjustable mount to hold a phone.
Folding phone stand — Because of their small size and portability, these stands are simple to carry around in a purse or backpack. When not in use, they can be folded to a compact size and opened to hold a phone at a convenient viewing angle. Your phone is simple to position in either landscape or portrait mode.
Continuity Camera Mount — Holds an iPhone or iPad in place, allowing for a seamless connection to a Mac or MacBook via the Continuity Camera feature in MacOS Ventura. This mount securely attaches the device to the computer screen or iMac, giving users an uninterrupted view of their screen while using the camera. It normally comes with an adjustable arm that fits over the edge of the display or iMac, ensuring a comfortable viewing angle.
Ring phone stand — A small ring or loop fastened to the back of the phone case or handset is known as a ring phone stand. The ring can be turned 360 degrees and used as a phone stand and grip for your fingers.
Charging phone stands — Allows you to charge your phone. It has an integrated charging port or cable that connects to the charging port on your phone.
Popsocket phone stands — A tiny circular disc fastened to the back of your phone or phone case. It can be expanded, collapsed, and popped in and out to give you a firm grip and a phone stand.
Novelty phone stands — A phone stand that comes in various distinctive and entertaining designs. Pop culture, sports teams, or adorable animals usually inspire it. These stands are a great way to personalize your phone setup and start conversations.
What Are the Benefits of Each Type of Phone Stand?
Each type of phone stand offers different benefits and advantages.
Here are some of the benefits of each type:
Adjustable phone stand — Allows for flexible positioning of your phone at various viewing angles and can hold phones of different sizes and orientations.
Desk phone stand — Keeps your phone within easy reach. At the same time, you work, and some models offer additional storage compartments to keep your desk organized.
Car phone holders — Allowing drivers to easily access and view their phone for navigation, hands-free calling, or music control while maintaining focus on the road.
Tripod phone stand — For photography enthusiasts, it's perfect because it offers a stable foundation for taking steady photos or videos with your phone.
Folding phone stand — Provides portability and convenience because it is simple to carry around and use in various locations.
Continuity Camera Mount — Offers a stable platform for taking photos or making video calls, and freeing up the user's hands to operate the keyboard or mouse. The Belkin iPhone Mount with MagSafe is a recommended option for those looking for a Continuity Camera mount for their Mac. Its compact design and lightweight build make it easy to transport, and it also doubles as an iPhone stand when the metal ring is flipped out.
Ring phone stand — Increases stability, offers hands-free use, and enhances grip when taking pictures or videos.
Charging phone stands — Provide wireless charging and adjustable viewing angles, allowing you to charge your phone while using it and minimizing clutter.
Popsocket phone stands — Prop your phone up at a comfortable viewing angle and can be attached to flat surfaces for hands-free use.
Novelty phone stands — Provide advantages comparable to other phone stands, such as improved grip and hands-free operation. Some models might have extra features like built-in speakers or wireless charging abilities. The main benefit of novelty phone stands is that they stand out from the crowd, giving your phone setup a unique look and a playful aesthetic.
Ultimately, the best type of phone stand for you will depend on your specific needs and preferences. Consider factors such as where and how you use your phone most often and your desired level of portability and adjustability when choosing a phone stand.
What Factors Should I Consider When Choosing a Phone Stand?
When selecting a phone stand, consider your device's type, size, weight, and preferences. Also, remember the stand's design and the type of material from which it is constructed.
Here are some of the factors you should consider:
Compatibility: Ensure the size and model of the stand match your phone.
Stability: A sturdy, stable phone stand will help to keep your phone secure and from toppling over.
Adjustability: Try to find a phone stand that lets you customize the height and angle of your phone to suit your requirements.
Portability: Consider a portable, lightweight option to take your phone stand with you.
Durability: Pick a phone stand that can withstand wear and tear by choosing a sturdy material.
Ease of use: The phone stand should be simple to assemble and use, thanks to a straightforward design that doesn't require much effort.
Versatility: Think about getting a stand that works with tablets and e-readers as well as your phone and can hold it in both portrait and landscape orientation.
Aesthetics: If the appearance of your phone stand is essential to you, look for one that matches your style and preferences.
Price: Phone stands are available at various prices, so consider your budget and look for a phone stand that offers good value for money.
What Are the Best Phone Stands on the Market in 2023?
One of the top phone stands available today is the OMOTON C2 Foldable Phone Stand. Popular phone stands like this one are made to be small and light, so they're simple to transport.
Here are some of its features:
Compatibility: The stand supports all Apple iPhones, Samsung Galaxy series, and e-readers.
Adjustable Viewing Angle: The stand has two adjustable angles, which allows you to set it according to your preference.
Foldable Design: The stand can be stored and transported easily because it can be folded up compactly.
Non-Slip Design: The stand has a non-slip base and a silicone pad to protect your device from scratches and slips.
Durable Material: The stand is made of high-quality aluminum alloy, which makes it durable and sturdy.
Cable Management: The stand has a space at the back to store your charging cable, which helps to keep your desk or workspace tidy.
Value for Money: OMOTON's phone stand is reasonably priced and offers good value.
The Lamicall Gooseneck phone holder and Lamicall Gooseneck phone mount are two other excellent choices; Lamicall Gooseneck features a stable and sturdy gooseneck bracket and phone clamp. The UGreen Cell Phone Stand and Nulaxy Foldable Cell Phone Stand are other choices.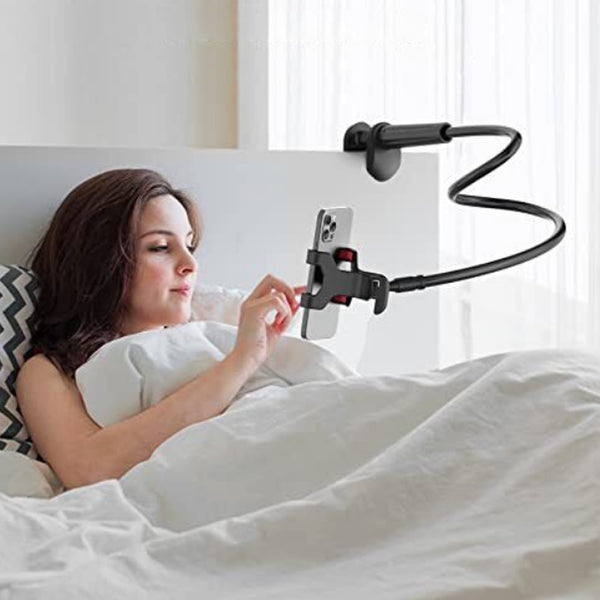 How Can I Get the Most Out of My Phone Stand?
Here are some tips on how to get the most out of your phone stand:
Adapt the stand's height and angle to your requirements and preferences. Your neck and eyes will experience less strain due to finding a more comfortable viewing angle.
Verify that your phone is firmly and steadily mounted on the stand. It will stop it from falling over and getting hurt.
Use your phone stand to free up your hands for typing, cooking, or exercise.
Take advantage of the versatility of your phone stand. Some stands can hold your phone and tablet in portrait or landscape orientation and can be used with other devices, such as e-readers.
Watch movies, browse the internet, or use your phone stand for video calls and video conferencing. Your overall viewing experience will improve as it will be simpler to see the phone screen.
Take your phone stand with you if it is transportable. You can use your phone hands-free when working, studying, or traveling.
Maintain the condition of your phone stand by cleaning it frequently. Wipe down the stand and remove dirt or debris using a soft cloth and a mild cleaning agent.
By following these tips, you can maximize the benefits of your phone stand and enjoy a more comfortable and convenient smartphone experience.
OMOTON: High-Quality and Affordable Cell Phone Holder and Stand
There are a variety of phone stands on the market, each with particular features and advantages. Consider your preferences and needs when selecting the best one for you. Do you want a stand that can accommodate various devices, is portable, or can be adjusted?
OMOTON is an excellent option for people who want a sturdy, adjustable, and portable stand, even though other phone stands are available, such as car mounts and ring holder stands. This stand will give your cell phone a stable and comfortable viewing experience, whether at home or while traveling.
So the OMOTON cell phone stand is unquestionably a choice if you're looking for a dependable and functional one.
Wrap-Up
Having a suitable phone stand can make all the difference in your day-to-day life's efficiency and enjoyment. With so many different phone stands on the market, you're sure to find something that will fit your needs and help you stay organized and entertained no matter where your day takes you.
Whether you need something for travel, a stylish accessory to show off, or simply something to keep everything nice and neat when you're working from home, there's a phone stand out there for everyone. So make sure to pick up the perfect phone stand for you today!