The world has changed irreversibly, and more people are working remotely than ever before. Remote collaboration and conferencing are now simply a part of doing business.

While the benefits are innumerable, without the right tools, you might as well be trying to have a phone conversation while going through a tunnel. That's precisely why finding the perfect video conferencing software and perfect laptop stand is so essential to your success.

So, without further ado, here's OMOTON's expert guide to the best video conferencing apps for productivity in all situations!
The 5 best video conferencing apps

Zoom: The best video conferencing software for large groups

By this point, Zoom is one of the most universally recognizable video conferencing tools available. Ironically, after the pandemic, this app spread like a virus.

However, while Zoom's catastrophic rise can be, in part, attributed to the world shutting down and skyrocketing demand for remote collaboration, it also works. More importantly, it works intuitively and easily.

Firstly, what makes zoom one of the best free video conferencing apps is you just have to share a link, and anyone can join. You don't need us to tell you: meetings rely on momentum, and someone being unable to join halts all momentum.

However, more than that, you can depend on Zoom to work. Like humans during the same pandemic that spurred Zoom to international fame, Zoom persists, and it does so even through poor Internet connection.

However, the ancillary features put it in a league of its own and render it the best free video conferencing software. You can record any call as a full-length video, and participants can message the group and each other individually.

Plus, you can share your screen and the audio from your computer, which is perfect for presentations. Ultimately, Zoom transcends being an app for meetings. Moreover, it's also one of the best video calling apps for online classes.

However, when considering software, hardware is also essential to optimize video conferencing.  Particularly with business or school (imagine your classmates seeing you at the wrong angle), framing yourself right is essential to present yourself to the world.

Without a quality stand, it's impossible to put your best foot forward. Ultimately, whether you're in the same room or staring at each other through screens, these things matter, and with an app that works as well as Zoom, there are truly no excuses.
Google Meet: The best video conferencing tool for small business Google Workspace users

Google Meet delivers one of the best video conferencing experiences with the caveat that your business integrates other Google apps into your workflow. If you do, this is some of the best free video conferencing software because it streamlines everything.

From creating a meeting in Google Calendar that's instantly shared and easy to access and join from the Gmail inbox to retrieving files from Google Drive and sharing them in the chat, there's truly no alternative that offers this kind of efficiency.

However, when considering video conference apps that are free like this, there are sometimes drawbacks. Google Meet runs in your browser. While this has its advantages, it can lag and struggle on larger group calls.

Still, it's the perfect video conferencing tool for small businesses. Moreover, particularly when watching presentations for extended periods of time, it's crucial to reduce strain on your back and neck. With laptops, this is impossible without a quality laptop stand.

That's why getting a premier laptop stand like the OMOTON laptop stand is crucial to optimize your performance, health, and ultimately, maximize your success.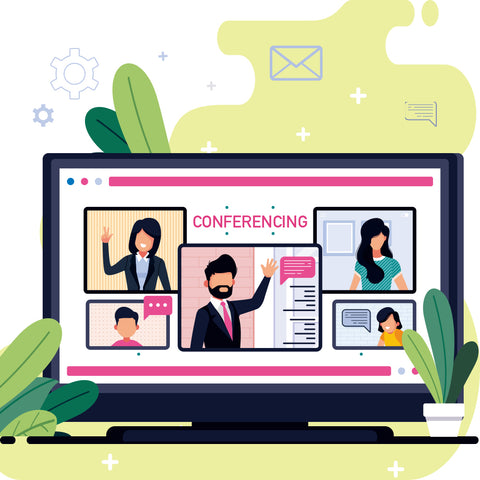 Microsoft Teams: The best video conferencing and team chat app
 
Microsoft teams is easily one of the best video conferencing tools available. Particularly for chatting with teams and brainstorming, it's an invaluable tool.

For example, its whiteboard is indispensable for collaborating on ideas, and it autocorrects drawings so everything is crisp and clear. Moreover, the chat is saved for later reference, which can be truly invaluable to mine for insights or ideas that might be forgotten.

Most importantly, however, the crisp video quality is absolutely essential, and it's almost unrivaled. Part of what makes it one of the best video conferencing tools for large groups is that the quality doesn't deteriorate with large calls.

Plus, there's a bevy of features to help create a sense of solidarity amongst the team. However, when using all the features this app has to offer, like the whiteboard, for example, accidents are too easy to make.

For example, it's easy to push your computer too hard accidentally when touching the screen. That's why a laptop stand with supreme stability is crucial, and that's precisely what the OMOTON laptop stand offers.

Teamwork is what it's all about, and with the help of Microsoft Teams, You and your work colleagues will be more efficient and more successful.
Whereby: The best FREE lightweight video conference app

When considering browser-based conferencing tools, the benefits can all be distilled down to one simple term: simplicity.

This is what makes Whereby one of the best free browser-based video conferencing tools available. Starting a meeting and sharing the link is effortless, as is joining. This is crucial. More importantly, Whereby offers critical embedded productivity apps.

Integrating things like Google Docs where everyone can simultaneously edit on the screen or even YouTube integration seems like a minor feature, but it packs a major punch.

For those looking for good video conferencing apps that are free, simple, intuitive, and equipped with a host of productivity-enhancing features, look no further than Whereby. This is an app that's more meat and potatoes than others. Which is admirable if you ask us.
Webex Meetings: The videoconferencing tool with the best video quality 
Cisco has already established itself as the titan of video conferencing hardware, so it makes sense that Webex Meetings (their video conferencing software) leads the pack in many ways.

What sets Webex Meetings apart is that it emphasizes video quality above all else. If this is a priority, then Webex Meetings should be your only option. While you do have to download the app to join meetings, it also offers several features that are perfect for collaboration.

For example, you can share a document and everyone in the meeting can annotate it. It also offers a great whiteboard feature that enables everyone to collaborate simultaneously. This is another great alternative for brainstorming.

More importantly, when using things like a whiteboard, or even in the excitement of collaborating over a document, you might make sudden movements that could possibly knock your laptop over. This would, obviously, derail the meeting and should be considered unacceptable.

That's why a high-quality laptop stand, like the OMOTON laptop stand, is so critical. With anti-slip and protective pads, your laptop is in reliable hands. Equipped with a crisp video and seamless collaboration features, you and your team will feel like the superstars you truly are.
Now you know the best apps for video conferencing in 2022…
...so what are you waiting for? In the modern world, low-quality or defective video conferencing apps are as good as having a meeting in a pitch-black room while listening to music in your headphones and texting. While that may be an exaggeration, it really isn't much of a stretch.

So, from the best video calling app for online classes to the best app for businesses, we're sure we've covered all the bases. Next time when your boss orders you to set up a conference call, you'll be prepared to make the right choice.