For decades video games were played, and marketed, for at-home use. This was as pragmatic as it was practical, since they required TV monitors, copious amounts of electricity and cords, and cumbersome computer set-ups. But with the advent of smartphones and mobile gaming, what do you really need to game, other than a full charge and some headphones?
While it's true that the amount of accessories necessary for casual gaming has decreased immensely in the last ten years, as mobile games become more complex, competitive, and popular, the demand for accessories that can keep pace is ever increasing. This has led to an influx of products specifically marketed toward improving the user experience of mobile gamers.
So whether you're a bus-stop gamer or someone who likes to play mobile games competitively online with friends and strangers alike, chances are, there is at least one accessory that can make your experience that much better.
1) Mobile Gaming, What Does It Mean
When most people think of "gamers", the image that comes to mind is someone at home, maybe in their parent's basement, who plays on their PC or console for hours and hours online. But while these types of gamers definitely exist, they are no longer the majority, and certainly not "mobile". So what does it mean to be a "mobile gamer"?
To put it simply, a mobile gamer is someone who plays games on their smartphone.
And even though those who play on their PCs and/or consoles claim they are the real gamers, the truth is, they are an ever dwindling minority. In reality, mobile gamers make up the lion's share of the market today, and their numbers are steadily increasing year by year while the amount of gamers who prefer PCs and/or consoles continues to decrease.

In fact, games played on iPhone and Android represent 61% of the overall gaming market, and for good reason. To date, over 6 billion people own some type of smartphone, which makes browsing and purchasing games as simple and inexpensive as downloading a new APP as opposed to buying a whole console or upgrading a PC.
Likewise, the popularity and convenience of mobile gaming fit into the fast-paced life many of us are accustomed to in the modern world, where breaks away from work may be few and far between (when we're not at home or working from home).
After all, it's infinitely easier to pull out your phone for a few minutes while waiting for the subway or in the backseat of an Uber than it is to set up a PC. Not to mention bathroom breaks!
Are mobile gamers real gamers
Well, the numbers don't lie. Despite what hardcore console or PC gamers may say, mobile gamers are certainly real gamers, and are here to stay. Likewise, as the market for mobile games continues to increase, so too does the quality and competitiveness of the games being offered, which only serves to widen this gap.

Long gone are the days of pixelated snakes and 8-bit Tetris on your dad's old Nokia.

But just how "long-gone" are those days, exactly?

2) Mobile Gaming, a Brief Timeline
If we trace mobile gaming as we know it to the rollout of Apple's App Store in 2007, where pretty much anyone could develop a game for sale and anyone with an iPhone could buy it, then mobile gaming is really only 15 years old. Which makes the meteoric rise in mobile gaming's popularity and the increase in quality quite astounding to think about.

However, if we only consider mobile gaming to be games played on phones (and not, for example, a handheld gaming device such as a Nintendo Game Boy), it turns out mobile gaming is actually much older than that.
1994: The First Mobile Game Emerges
Although most people think the first mobile game was Snake launched in 1997 on the Nokia 6110, the first real mobile game was actually released three years earlier pre-loaded on the Hagenuk MT-2000.

The game? Tetris.

With over 150 million copies sold to-date, Tetris has gone on to become the second most popular and purchased game in the world after Minecraft, and a household (and handheld!) name the world over.

1997: Nokia Develops Snake
Besides Pong, Snake is perhaps the most simple and recognizable "retro game" of all time. Although a simple concept, upon its release in 1997 for the Nokia 6110, it was quite revolutionary and quickly became a smash hit.

Since that time, it has been embedded in over 400 million devices worldwide - making it arguably the most played video game on the planet to this day.

If you're old enough to remember Snake, then you may want to scroll down for some mobile phone accessories to help alleviate your carpal tunnel syndrome!
2003: Nokia Releases a Dedicated Gaming Phone
Resembling a handheld gaming device more than an actual mobile phone, Nokia's N-Gage was the first device to combine real gaming capabilities with telephone services, becoming the world's first ever "gaming telephone".

In doing so, it offered a wide variety of cutting edge games for the early aughts, including some 3-D options such as Tony Hawk's Pro Skater.

2007: The iPhone Is Born
A year after the first iPhone was released, Apple introduced the App Store, which ushered in an entirely new era of mobile games.

As a dedicated and convenient marketplace for developers and gamers alike, the App Store initially only offered 500 apps which included several games such as Super Monkey Ball and Texas Hold'em.

However, with the launch of Angry Birds in 2009 and its rise to global popularity, a new standard was born for mobile games the world over, with developers continuing to push the envelope in terms of technology, functionality, and of course, entertainment.

Now: Mobile Games Today
Today, there are over 6 million apps available worldwide. And in the decade after the incredible success of Angry Birds, many mobile games have attempted to rival its popularity, including Plants vs. Zombies (2010), Clash of the Clans (2012), and Candy Crush (2012).

After smash hit was released on the App Store, the growing acceptance of mobile games among hardcore gamers and casual players of all ages insured a market worth exploring in the future. Likewise, as smartphones become and continue to become more and more technologically advanced, developers are spending more time and energy diversifying their gameplay to make it stand out, including incorporating elements of augmented reality into games such as Pokemon Go.

Although the future is hard to predict, it's not a stretch to see mobile games potentially using technology that may not be hard-wired into phones to help increase sales, which means that, as various games become more and more popular, accessories will become more and more necessary to fully enjoy the experience.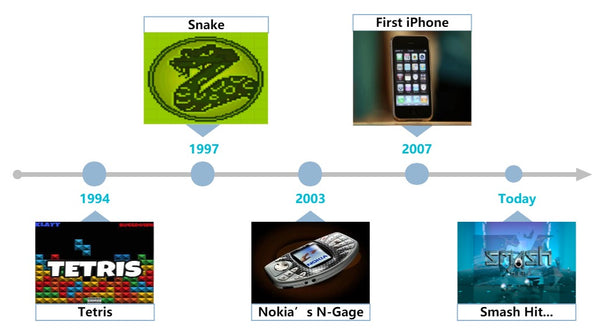 3) Most Useful Mobile Gaming Gear
So now that we've gone through a brief history of mobile gaming, we can finally get to the good stuff - the best mobile gaming gear, and why it matters.

As already illustrated, mobile gaming is seriously popular nowadays, which means that many companies are trying to capitalize on this success by offering complimentary products.

To help sort through these gadgets, we've listed various types of products below, and ranked them on a gradient scale from "Casual" to "Hardcore" gamers.
a. Power Bank

At the top of this list is the humble power bank. Having one around is not only a good idea for gamers, but for everyone. After all, nobody likes a dead phone, and who likes to lug around their cellphone charger all day?

However, if you really are a dedicated gamer, there are definitely some great options out there for you to make sure you never miss a level, or drop your online gameplay due to a fading battery.
One of the most popular options for Android and iPhone is the Anker PowerCore Play 6K Mobile Game Controller with 6700mAh Power Bank and Radiator Gamepad.
This Power Bank was made with gamers in mind, as its ergonomic design looks and feels like a real gaming controller, essentially turning your smartphone into a gaming rig while you charge. This makes it a great option for both hardcore mobile gamers who enjoy being out and about as well as people who just don't want their smartphones to die!
b. Thumb/Finger Gloves for Gaming

Although a relatively recent invention, thumb and finger gloves for mobile gaming seem to be gaining in popularity, and for good reason: Fingers and thumbs get sweaty, sweaty fingers cause slippage, slippage causes missed gameplay, and missed gameplay means decreased efficiency.

After all, if you're playing Pubg or Fortnite online, you can't rightly ask for a timeout in the middle of the game and expect other players to allow it, can you?

We rate this product somewhere in the middle between casual and hardcore, since they are small enough to fit into a pocket or in a backpack, and generally pretty inexpensive.

Although for casual gamers we'd probably recommend just taking a break if your fingers get so sweaty you can't hold onto your phone anymore, for serious gamers, it's just not an option.

If this sounds like something you could use, you can check out a variety of options on Amazon, but we'd probably recommend the LA OTTER Finger Sleeve For Pubg and all Gaming.
c. Controller

For the true mobile gamers out there, nothing beats a real controller you can hold. And although there are a few different types of styles and options out there from cords to stands, the best option for hardcore gamers is one that clamps onto both sides of your device, essentially turning it into a Nintendo Switch.

The reason for this is twofold: Firstly, it is easier to transport and store (although definitely not as easy as some finger gloves). And secondly, it requires no other parts to use, such as a phone stand, cord, or Bluetooth.

Although there are a variety of options for this type of mobile gaming controller, IGN recently ranked the Razer Kishi phone controller as the best option for money in 2022, and they are certainly a trusted source. 
d. Phone Stand

Due to its versatility, a phone stand (phone mount) is an accessory that straddles the line between hardcore and casual, much like the Power Bank at the top of this list. After all, a solid phone stand can be used for so much more than just gaming, including: reading and/or watching shows while eating, hosting zoom meetings, as an alarm clock stand at night, and so much more.

In this case, we'd highly recommend the OMOTON C2 cell phone stand. Made out of solid aluminum and with adjustable viewing angles (up to 270 rotating degrees), it makes being hands free and stress free. And for hardcore gamers with Bluetooth or cord controllers, this stand offers a level of stability that is second to none on the market today. 
4)
 Mobile Gaming for Parties
And last but not least, a true must-have accessory for any mobile gamer who wants to throw a party and/or host their friends in real life, is actually something that is not mobile friendly at all - it is, and continues to be, a projector and/or TV monitor.
We know, a TV somewhat defeats the point of having a mobile phone game in the first place. But really, if you want to have multiple players in one room at one time, there is no better option than having a big old screen.

So if you're the type of person who really likes to host parties with mobile games, then definitely consider getting a smart TV or projector that is compatible with your type of phone for airplay, and definitely read reviews about lagging before you buy.